XGIMI Mogo Pro DLP Projector 1080p 300 ANSI
Reference: Mogo Pro
Manufacturer: XGIMI
The MoGo Pro is powered by Harman-Kardon, offering fantastic sound quality with its advanced dual 3-Watt speaker units. The sound is professionally tuned using Gold Ear Philosophy, meaning the MoGo Pro's speaker is well balanced and perfect for any kind of music. Y
This product is no longer in stock
Availability date:
Data sheet
| | |
| --- | --- |
| Brightness (ANSI) | 300 |
| Display Technology | DLP |
| Throw Ratio | Standard Throw |
| Wireless | Yes |
| Interactive | No |
| Resolution | 1080p (1920 x 1080) |
| Color | White |
More info
XGIMI Mogo Pro DLP Projector 1080p 300 ANSI
Model: Mogo Pro
Resolution: 1920 x 1080 (1080p)
Brightness: 300 ANSI
Contrast: -
Weight: 0.9kg
Dimensions: 146 x 105.5 x 94.5 mm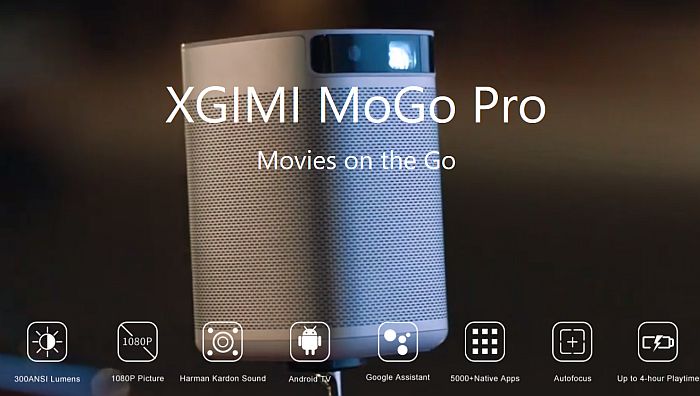 Award Winning Design
XGIMI is devoted to providing innovative products with outstanding quality and great value, we won 28 international awards in 6 years. Our efforts were highly recognized by industry and millions of users.
MoGo Anywhere
The world's first 1080p Android TV Portable Projector with built-in Harman/Kardon dual speakers and high capacity battery. Entertainment wherever you are.
Now in True 1080P
XGIMI's revolutionary new DLP technology allows the MoGo Pro projector to provide a sharper, crisp image with a physical resolution of 1920x1080 pixels, which means it projects in true Full HD and 225% clearer than mainstream 720p projectors. MoGo Pro also supports video format up to 4K Ultra HD, which will provide the sharpest image you will ever see from the projector of its size.
Unrivaled Image Quality
XGIMI MoGo Pro projects way more colorful, brighter and sharper images comparing to other 150 ANSI or 200 ANSI portable projectors in the market.
Delight Your Ears
The MoGo Pro is powered by Harman-Kardon, offering fantastic sound quality with its advanced dual 3-Watt speaker units. The sound is professionally tuned using Gold Ear Philosophy, meaning the MoGo Pro's speaker is well balanced and perfect for any kind of music. You can also connect to the MoGo Pro via Bluetooth or 3.5mm Audio Cable and use it as an external Bluetooth speaker, allowing you to enjoy up to 300 songs on a single charge.
Light up Your Journey
Unlike other pico projectors that feature low luminance power and offer a dim and grainy image, XGIMI MoGo Pro offers 300 ANSI Lumen power — delivering cinematic images with stunning clarity.
Redefine Screen Size
With the XGIMI MoGo Pro, you can enjoy your own private cinema with great sound and an amazing 30'' - 100+'' Big Screen. Just put your feet up, sit back and enjoy the perfect movie-going experience.
Non-stop Entertainment
MoGo Pro works with the Google Play Store for Android TV. Whatever you're into, from Showtime to YouTube to tons of games, there are innumerable apps to find and fall in love with. With 5000+ native apps, Android TV opens the door to a world of entertainment for you.
Game on, I'm in!
Quick access to a vast universe of Android games, including Final Fantasy, Minions, NBA JAM and more. Immerse yourself in big-screen gaming anywhere you want in the home, at the beach or even when setting up a fun outdoor gaming space say, for example, for the kids during a BBQ (compatible with Switch, PlayStation and Xbox).
Easy Share
Direct casting of your favorite entertainment apps, movies & TV shows, music, games, sports and more from your Android or iOS device, Mac, Windows computer or Chromebook to the MoGo Pro.
How Can I Help You?
Just press the mic button on your remote and say "Hey Google" to quickly find the latest blockbusters, check the score of the big game or dim the lights — all without leaving your seat or switching from what you are already watching.
Angles Never Bother You
Just put MoGo Pro at any angle, the patented Smart keystone correction will adjust the projected screen up to 40+ degrees both vertically and horizontally to give you the best viewing experience.
Never Fuzzy
The MoGo Pro's Instant 10000+ points autofocus function will automatically adjust the focus within seconds! With this function, you will never again have to worry about your video getting out of focus.
High-capacity Battery
The 10,400 mAh built-in large capacity battery ensures the excellent portability. Users can watch up to 4-hour movie (energy-saving mode) or listen to 8 hours of music on a one-time charge.
The battery capacity is 36Wh, which is equivalent to a 10,400mAh/4.2V power bank.
Smooth and Stable
The MoGo Pro boasts the brand new Amlogic T950X2 TV chip and MaliG31 GPU with 2GB RAM and 16GB ROM - providing the most advanced image quality and more intelligent and faster automatic focus adjustment. The speed of the new high-performance processor will blow you away!
Ultra Long Lifespan
The MoGo Pro utilizes a highly efficient LED light source, allowing its projections to stay perfectly crisp, clear and bright for its entire LED lifespan of 30,000 hours. You could watch 4 movies with the MoGo Pro every day for the next 10 years.
Specifications:
Refer to image gallery
Warranty (Projector): 1 Year Local Carry-In Warranty