Lav Liza II ABS 4 : 3 Manual Screen (Made in Singapore)
Reference:
Manufacturer: LAV
LIZA II comes in an Aluminium casing, It's advanced roller mechanism complete with an Automatic Braking System (ABS). Ease of installation and precise stop position when pulled down
This product is no longer in stock
Availability date:
Data sheet
| | |
| --- | --- |
| Projector Screen Image Aspect Ratio | 4 : 3 |
| Video Projection Screen Type | Manual |
More info
The all new LIZA II Series now come complete with an Automatic  Braking System (ABS).
The ABS mechanism will control the screen's retraction and avoid the screen's bottom bar from banging onto it's casing. 
This feature prolongs the  life – span of  the  already durable screen  while  adding  an impressive closure to it's user's presentation
Features and Benefits
Economical
Durable
Ease of installation
User-friendly
More durable (Due to ABS roll up Feature)
Auto-gear mechanism allows screen to roll up smoothly like a motorized screen
Precise stop position when pulled down
Specification
| | | | | | |
| --- | --- | --- | --- | --- | --- |
| Format | Model | Screen size (mm) | Chassis Length(mm) | Chassis Height(mm) | Weight(Kg) |
| 4 : 3 | L80x60MW | 2134 x 1575 | 2264 | 150 | 8.30 |
| 4 : 3 | L96x72MW | 2540 x 1880 | 2670 | 150 | 10.13 |
| 4 : 3 | L108x81MW | 2845 x 2108 | 2975 | 150 | 11.57 |
Warranty:
1 year Local Carry-In Warranty against manufacturing defects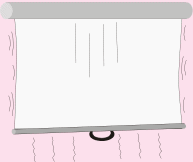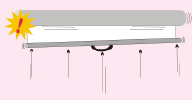 Common problems associated with normal manual screen.
When pulled down, normal manual screen cannot stop at your desired position due to poor stopping mechanism, causing frustration to the user. Damages of the screen is inevitable if too much force is used to pull down the screen.  When rolled up, normal manual screen either jammed or rolled up too fast, causing a loud impact when the bottom bar hit the frame. This will cause damages to the screen too!
The Solution!
Auto-Gear Mechanism is an innovative designed gear system that stop at your desired position when pulled down and released. To roll up, just pulled down slightly and release, the unique Auto-Gear Mechanism will wind the screen up slowly and smoothly just like a motorized screen. Simple as that, no more hassle and damage to the screen.
*Standard installation for Manual Projector Screen
Having trouble getting your Projector Screen fixed up, we can do it for you! Get your screen installed in a wide variety of venues, including homes, houses of worship, conference centers, classroom facilities, Offices, and many other businesses.
Includes:
Mounting procedure of manual projector screen onto concrete wall or ceiling as per specifications.
Testing and Commissioning
Clean up work area and remove installation debris
Please note:
For Ceiling mounting : Height from floor to ceiling cannot exceed 4m.