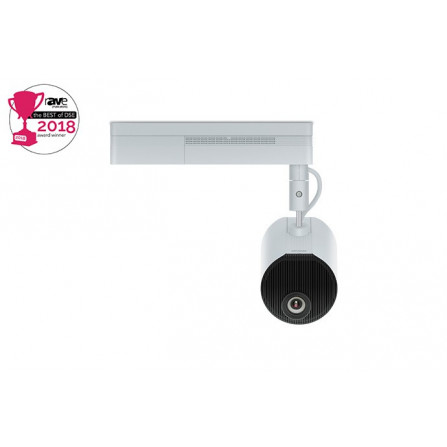  
Epson LightScene EV-100 Accent Lighting 3LCD Laser WXGA Projector (White) 2000 ANSI
Create stunning visual displays and immersive environments with the LightScene EV-100, the cutting-edge digital signage solution from Epson. A convergence of lighting and display technology, LightScene laser projectors captivate audiences by simultaneously illuminating and projecting on virtually any surface or material, unleashing dynamic, experiential content for digital art, commercial signage and décor applications. Designed to blend in discreetly to any setting — from retail, hospitality and event spaces to showrooms and museums — LightScene EV-100 offers a sleek, white spotlight design, with an array of configuration, mounting and programming options.
Epson LightScene EV-100 Accent Lighting 3LCD Laser WXGA Projector (White) 2000 ANSI
Model: EV-100 (White)
Resolution: WXGA
Brightness: 2000lm
Contrast: Over 2,500,000:1
Weight: 6.9kg
The dynamic laser projector for digital art and signage.
- Laser projector for digital art and signage
- Seamlessly blends into virtually any environment
- Up to 20,000 hours of virtually maintenance-free operation
- 360-degree mounting: floors, walls or ceilings
- Remote management and control tools
- Best New Award Overall

Projection Technology:
Projection Technology:
RGB liquid crystal shutter projection system

Connectivity:
Network:
Wired LAN: RJ45 x 1 (100Mbps)
Wireless: Built-in
Memory I/O:
SD Card: 1 (SDHC, up to 32GB, more than Class 10)
Digital Input:
HDMI: 1
Audio Output:
Stereo Mini Jack: 1
USB Input:
USB Type A: 1 (For 1200mA power supply)
USB Type B: 1 (For firmware update)

Wireless Specifications:
Supported Speed for Each Mode:
IEEE 802.11b (2.4GHz): 11 Mbps*
IEEE 802.11g (2.4GHz): 54 Mbps*
IEEE 802.11n (2.4GHz): 130 Mbps*
Wireless LAN Security:
Quick Mode: WPA2-PSK
Advanced Mode: WPA/WPA2-PSK, WPA/WPA2-EAP
Supported EAP Type: PEAP, PEAP-TLS, EAP-TLS, EAP-Fast, LEAP
Supported Connection Mode:
Infrastructure, Access Point

Geometric Correction:
Vertical/Horizontal Keystone:
±45° / ±40°
Quick Corner:
Yes

Operating Temperature:
Operating Temperature:
5 °C to 40 °C (41 °F to 104 °F)
(20% - 80% humidity, No condensation)

Operating Altitude:
Operating Altitude:
0 m to 3048 m (0 ft to 10000 ft)
(over 1500 m / 4921 ft : with High altitude mode)

Start-Up Period:
Start-Up Period:
Less than 9 seconds
Warm-up period: 30 seconds

Cool Down Period:
Cool Down Period:
Instant off

Direct Power On/Off:
Direct Power On/Off:
Yes / Yes
Dimension Excluding Feet (W x H x D):
Dimension Excluding Feet (W x H x D):
Projection unit: F 175 x D260
Power supply unit: 361 x 65 x 110 mm (without Cable Cover)
Weight:
Weight:
Approx. 15.2 lbs. / 6.9kg (Main Unit and Direct Mount unit)
Fan Noise:
Fan Noise (Normal / Eco):
34 / 22 dB
Power Consumption (220 - 240V):
Stand By (Network On / Off):
2.0W / 0.30W
Laser diode on (normal / quiet):
170W / 118W
Brightness:
White Light Output (Normal / Quiet / extended):
2000lm / 1000lm / 1000lm
Colour Light Output:
2000lm
Contrast Ratio:
Over 2,500,000:1
Colour Mode:
Dynamic
Normal
Adjustment Angle:
Vertical:
Upper: 90° to Lower: 90°
Horizontal:
360°
Rotatory:
0° - 90° (Portrait projection)

Specifications of Main Parts:
LCD:
Size: 0.59 inch (D8, C2 fine)
Native resolution: WXGA
Projection Lens:
Type: Optical Zoom (Powered) / Focus (Powered)
F-number: 1.51-1.92
Focal Length: 18.2mm-28.4mm
Zoom Ratio: 1 - 2.21 (Total)
Zoom Ratio: 1 - 1.58 (Optical Zoom)
Zoom Ratio: 1 - 1.40 (Digital Zoom)
Throw Ratio: 1.38 - 2.19 (Wide to Tele)
Type: Laser Diode
Life (normal/quiet/extended): 20000hrs / 20000hrs / 30000hrs
Screen Size (projected distance):
30" to 150" (0.88 to 4.51 m) (Wide Zoom)
30" to 150" (1.41 to 7.16 m) (Tele Zoom)
60" screen 1.79m (Standard size)

Power Supply Voltage:
Power Supply Voltage:
100 - 240 V AC +/- 10%, 50/60 Hz
Contents Player:
Playlist:
Yes
Timetable (scheduled playlist):
Yes
SD viewer:
Yes
Playlist Contents:
Motion JPEG Movie (AVI), and Photo (JPEG, PNG, GIF, BMP)